Before anything else, let's make some rewind a few years back...
Remember this song?
Ang araw na'to ay araw mo
Pagdating mo sa ating mundo

Matatandaan di malilimutaan
Kailanman, kailanman

Ang saya ng mundo ngayong ikaw ay narito
I wish you a Happy Birthday
Ahh.. memories
(*sigh)
. We used to sing this song every time a friend celebrates his/her birthday . And I must say that this is probably one of my favorite advertisements made for Goldilocks.
For more than 4 decades, Goldilocks has always been part of every Filipinos celebration of life.
As a matter of fact, it's now almost certain that whenever there's a birthday party, there's always a Goldilocks cake that guests will truly adore. A special occasion is made even better with a Goldilocks product around. Baby showers, christenings, graduation, fiestas, even hospital visits
– you name it, a Goldilocks cake roll, "mamon", or "ensaymada" will be present for sure! And to tell you frankly, I even had a chance to attend a funeral where all of us guests had Goldilocks ensaymadas and juice in tetra packs for snacks. ( I never thought that attending funeral could be that enjoyable and rewarding! )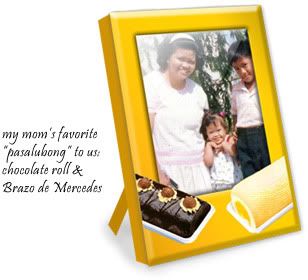 Goldilocks has been also my mom's favorite "

pasalubong

" to us. I remember that ever since I was a kid, she used to bring home from work either a chocolate roll or

Brazo de Mercedes

practically every pay day.

Boy, how I loooovvveee and anticipate pay days during those times!






So, what makes Goldilocks "the one" close to our hearts? I'm not going to talk about Mike's Autobiography: The Goldilocks Edition here, coz that'll be like a torture reading all the 20-plus years of significant events in my life with a Goldilocks product in it. Of course, all of us have our own unique share of memories and celebrations with it, but why do we love Goldilocks so much? Is it really just meant for special occasions alone?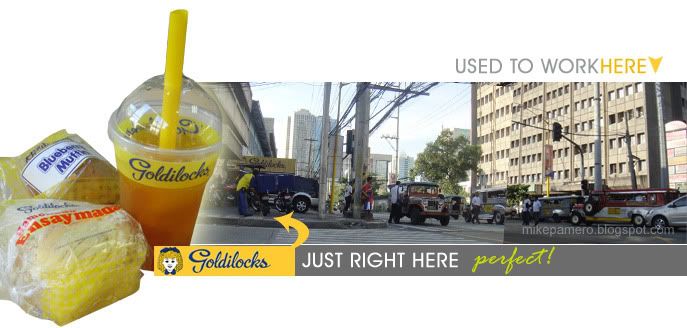 Years ago, I used to work in our office along Chino Roces corner Herrera st. in Makati. It was my first time to work in that area. And every break time, my officemates and I go to only one place – and that's Goldilocks just right across the street!

Yipeee!

My top favorite snacks were:

Hamonado Ensaymada,

Blueberry muffin, brownies,

Sago't Gulaman

, and

Mais con Yelo

(yumyum!). Believe it or not, my Korean boss loves the sweet, chewy consistency of their

Sago't Gulaman

so much that whenever his Korean friends or guests come to our office, he'd always ask someone to buy some for them.
At times when I feel stressed or pressured from work, I'd simply head towards Goldilocks, buy me some cake slice and my favorite

Mais con Yelo

, and then I would feel happy and recharged. Goldilocks has been the source of my comfort food. I also remember the time when my taste bud was badly craving for some slice of choco mousse and mais con yelo. It was raining really hard that night and the whole stretch of Chino Roces was submerged in knee-level flood. But then, there's just no stopping me from getting that slice of choco mousse and

mais con yelo

. So I crossed the river,

errr

the flooded street, ordered my cake slice & refreshment, and viola! – a piece of heaven in the middle of a stormy, stormy night =). Weird as it seems, but I love my choco mouse and

mais con yelo

... rain or shine.






But now that I transferred office, it's kinda sad that there's no Goldilocks shop near our building. There's one along Ayala avenue, but that's quite a long walk from our office. How I miss those times that I'm just a few steps away from my "sweet paradise", specially the bonding moments that I had with my old friends. Now, every time I have my favorite Goldilocks snacks, it brings me back good old memories with my friends worth reminiscing.








I guess the reason why Goldilocks is the one dearest to us is because it always gives us that "special feeling" no matter what occasion or time of the year it is. It's that feeling of comfort and satisfaction we get, along with memories to last that makes Goldilocks play a significant part in our lives. What's also amazing about them is that they didn't just stop on providing us premium cakes and pastries. Knowing how passionate Filipinos are when it comes to food, Goldilocks also crafted exceptional dishes out of something that for us seems pretty ordinary. Imagine, even our favorite Pinoy dishes like dinuguan, laing, pancit, etc. are available for us food lovers to enjoy. That's why I say: " You're the 1 Goldilocks, because you always turn the usual into something special".

How thoughtful, how Goldilocks.